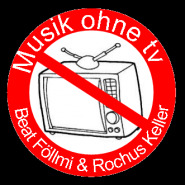 Musik ohne TV
Real-time composition on July 1st 2011.
The name is a joke; a camera crew announced it's visit for that day, but then canceled on short notice; so Beat and I did "Musik ohne TV".
Beat Föllmi: JamMan, Sequencer, Drums, Bowed Cymbals, Percussion, Mini Marimba
Rochus Keller: E-Piano, E-Guitar, Acoustic Guitar, Grand Piano, Left Hand Bass, Foot Drums
Of course I play all the Guitars on my Yamaha XS keyboard. Beat uses samples on his JamMan which he recorded himself (i.e. Balaphon on 014-0141 and 015-0006, Can on 014-3800 and 015-1441); he also run some of his sequencer pieces, to which we then improvised (e.g. 014-4737).
Here's the music (License: Creative Commons by-nc-sa):
014-0141.mp3
014-1056.mp3
014-3800.mp3
014-4737.mp3
015-0006.mp3
015-1441.mp3
015-1830.mp3
015-2647.mp3
015-3436.mp3
015-4001.mp3
015-5045.mp3
015-7655.mp3
017-0015.mp3