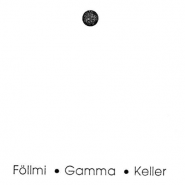 Live im Vogelsang Altdorf 1989
This was the first live concert at Vogelsang Altdorf and at the same time the first public concert of the trio Föllmi-Gamma-Keller (FGK); the atmosphere was great; the audience gave us a warm welcome and we very much enjoyed to play in Altdorf which you can hear very well on the recording; some pieces were improvised, some were composed by Beat or me.
Beat Föllmi: Drums, Balaphons, Gongs, Tuned Disks
Carlo Gamma: Tenor & Soprano Sax
Rochus Keller: Piano, Synthesizer, Left Hand Bass
I used a Yamaha DX 7 II FD (with sounds by Christoph Stiefel), layered with a Kurzweil Expander (for Piano and Contra Bass), a Prophet V and a custom built master keyboard.
Here is the music (more to come):
01.mp3 (free improvisation; unfortunately there is a short drop out on 06:02 on the DAT tape)
Ansage.mp3 (by Beat)
02.mp3 (Vaikuntha, by Rochus)
03.mp3 (Jerappa, by Beat & Rochus)
04.mp3 (free improvisation by Carlo)
05.mp3 (RTS, by Rochus)
06.mp3 (Schamanentanz, by Beat)
07.mp3 (free improvisation)
08.mp3 (High, by Rochus)
09.mp3 (Six to Eight, by Rochus)
10.mp3 (Türkis, by Rochus)
If anyone has pictures of this concert, please tell me.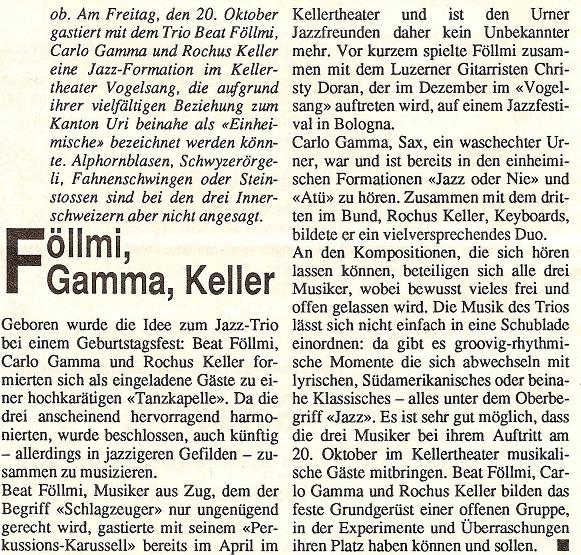 (Artikel in der "Alternative", Urner Monatszeitung, Ausgabe Oktober 1989)
Cover of the produced compact cassettes: