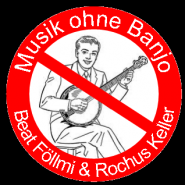 Musik ohne Banjo
Real-time composition on April 29th 2011.
The name is a joke; we planned to do "Musik mit Banjo" but Siggi had to cancel on short notice; so Beat and I did "Musik ohne Banjo".
Beat Föllmi: Drums, WaveDrum, Arpegiator, Strange Sounds, Chaos Pad, Vocoder, Percussion
Rochus Keller: E-Piano, Grand Piano, Guitar, Left Hand Bass, Foot Drums, Mastering
The sounds in 02-0017 are generated by Beat with a cymbal and a closely moving mic (like a microscope on the sound scape of the cymbal surface). This session was special since Beat and I did some role changes; in a couple of pieces he fully plays the lead voice and I do the drumming (using my feet which I started to do in 2009); a very interesting experience, opening a new view on our music.
Hear what came out (License: Creative Commons by-nc-sa):
00-2834.mp3
00-3714.mp3
01-0000.mp3
02-0017.mp3
02-0342.mp3
02-1625.mp3
02-2136.mp3
02-2254.mp3
02-2849.mp3
02-4340.mp3
02-4744.mp3
02-5510.mp3
02-6220.mp3
02-8000.mp3
02-8140.mp3
02-9252.mp3
03-0000.mp3