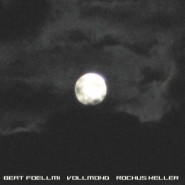 Vollmond
Real-time composition on April 15th 2011.
Beat Föllmi: Drums, WaveDrum, Ukulele, Chaos Pad, Percussion, Arpegiator
Rochus Keller: Grand Piano, Spanish Guitar, Athmospheric & Arpegiator Sounds, E-Piano, Left Hand Bass and Bass Pedals
Here I used my Yamaha Motif XS Keyboard (with my sound configuration) the first time in a session with Beat; in contrast to previous work I play the bass on the XS with my left hand; the XS has a wonderful singing Contra Bass (which I modified a bin of course); also the piano and acoustic guitar sounds are very nice (I had to adjust them a bit though). We're just sounding a bit like Oregon (e.g. on 055-0215); don't you think? The XS also has some very nice arpegiator patterns, which perfectly fit to grand piano and percussion (see 056-1830 and 056-3035). Some athmospheric pieces could be used as a movie score with no doubt.
Here's the music (License: Creative Commons by-nc-sa):
055-0000.mp3
055-0215.mp3
056-0000.mp3
056-0500.mp3
056-1230.mp3
056-1430.mp3
056-1830.mp3
056-3035.mp3
056-3515.mp3
056-4145.mp3
056-4445.mp3
056-4630.mp3
056-4915.mp3
056-6030.mp3
057-0001.mp3
057-0216.mp3
057-0405.mp3
057-1936.mp3
057-2450.mp3
057-2952.mp3
057-3501.mp3
057-3747.mp3