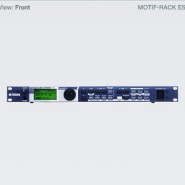 ToyLand
Sequencer Multitrack Improvisation (i.e. I just played; for the imrovised pieces just what came to my mind)
Rochus Keller: Composition & Arrangement (I played all instruments myself)
I'm pleased to introduce my new toy. This is a long waited device finally able to play a whole production out of one tiny box. It has 16 channels, eight of which equiped with great sounding insert effects. In contrast to my earlier equipment the solo guitar sounds keep their size when switching to multi mode. Have a listen to my first trials (© 2005 by Rochus Keller):
(License: Creative Commons by-nc-sa)
All tracks were played straight trhough, first take, no quantisation. I recorded the pieces using Cubase SX 2. The ES was directly connected to the PC using USB (I had to upgrade to the most recent Yamaha driver to make it work). Yamaha delivers a device XML file compatible to Cubase which is very helpful. I connected two master keyboards (Yamaha KX88 and KX5) directly to the midi in of the ES. The MP3 files were directly recorded from the ES over SP/DIF (using WaveLab 5 running on the same computer and at the same time like Cubase).
And here is a picture: